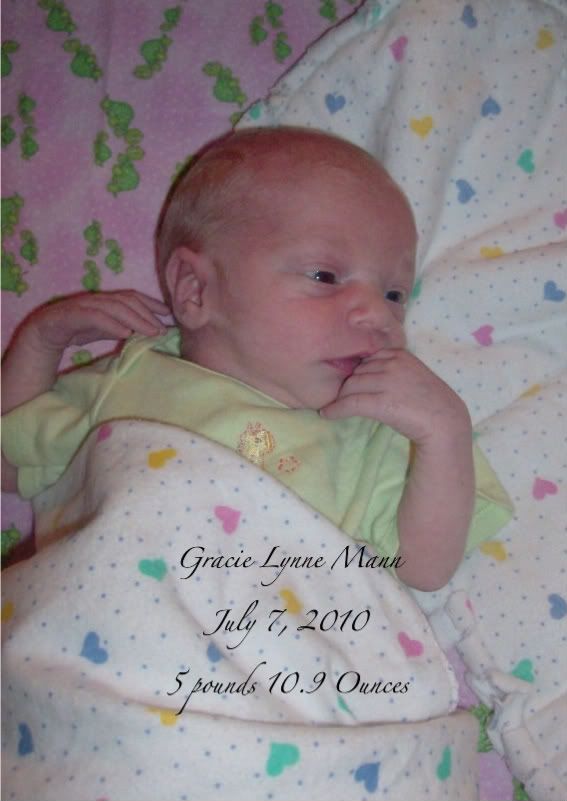 Our little Gracie!
I am talking on the phone; Fireman went to go find a part for a lawnmower: so anyways, talking on the phone, listening to my cousin tell me all about her exciting news and I hear the van alarm going off. Hmmm I don't recall setting the alarm! On the way out to check the van with the phone to my ear, Fireman is calling for info on the cell phone (which I ignored) only for him to call on the house phone which was presented to the 8 year old to answer so he would at least understand I was "kinda" busy... I went out to figure out what was going on only to find it is the neighbors and not mine! Whew...
Now, back to the living room to get the little girl who seems to sound like she whinny's like a horse now, only for her to fall asleep on me while nursing; then you lay her down and she wakes up again still starving!
Fireman called; the part needs to be ordered for the lawnmower. Wonderful. Story of our lives!
Another couple of fights between the kids; one waking the little one and amazingly she is just looking around as if thinking "Okay what's going on here?" The girls are ordered to pick up the mess that they made while creating an "course" created with all kinds of things that needs to be picked up so Fireman can mow.... I am taking bets that they won't do it, anyone wanna make a bet on this?
I still need to start cleaning the house... It will come slowly as I am trying to get things picked up better than what I have been able to get done.
Food was taken away from the kids until the said "course" has been picked up and put away (It's not like they ate what? 15 minutes ago???) It's not going to hurt them to put in some effort before they can get things!
On a brighter note; Our little girl just turned 2 weeks old as of yesterday! Above is the photo for her two week birthday....We celebrated with a happy dance when we found out at her weight check appointment that she was finally over her birth weight! I have noticed that her little onsies that used to fit very loosely is not fitting a little more snug on her. I am not sure if it's the type of diapers or if it is actually her growing.
Today after dinner was put on the table was the first day she did not fuss over being put in the swing. She really has changed a lot in the last two weeks. Not only by her looks, but by her actions. She is still truly a sweetie! Last night after I put the camera away she decided to reach out and try to grab her first little doll that Grandma and Grandpa bought for her.
I need to start blogging more again- but until we get her on a better schedule it's going to be difficult so I hope everyone will bear with me. Until the next update; take care and god bless!