.... And the children were nestled all snug in their beds, while visions of making decorations and trimming the tree kept them up and talking while lil' Gracie jumped in her bouncy seat.
I am about ready to bust the gut from laughing. Really. SERIOUSLY.
The LOOOOOOOOONNNNG... (almost really TOO LONG, seeing as the kids don't go back to school until Tuesday) weekend over the Thanksgiving holiday, I decided to take the holiday, trash the house and let
me
the kids have fun doing it.
Well, no that really wasn't the plan, though I think that's what ended up happening. We actually had a lot of fun.
Thanksgiving, Katie got to have a date with the Turkey, stuffing it before we put it to baking. She was all excited. The fun began when the Turkey actually cooked a little faster than what we had expected with it being our first time using an electric dutch oven. The bird was very delicious and very tender though I did not get the time to make the candied carrots as I thought I would have had time for.
We went down to the Akron Children's Hospital tree festival after dinner to walk off all of that dressing we ate.
The 4 "NOT ME-s" with Santa. This was Gracie's first photo with Santa!
Friday, we went "whopping" which in my terminology means going shopping without a really well planned out list of items we were in need of. We ended up at the good ole "HOBBY LOBBY" and while we were all having fun, me and the kids kind of went a little hay-wire in the craft idea department of our brains.
We ended up buying about $75.00 worth of material for what I thought were about 6 projects, but I think it actually ended up being about 12 after seeing everything else we could do with what we ended up taking home with us.
One of the projects we ended up doing first, I got the instructions offline to create. They were "Christmas Spiders" with the legend behind the beginnings of Tinsel on the tree. We ended up making 3-4 after dinner, then Brianna ended up making a whole lot more on Saturday while we pretty much all went different ways and ended up working on different crafts or watching TV or playing on the computer. I think it's been the first time in a long time that we actually just sat around the house, no cleaning involved, and just "vegitized" ourselves for a while. Shoot, fireman actually spent some time in the garage doing his woodworking.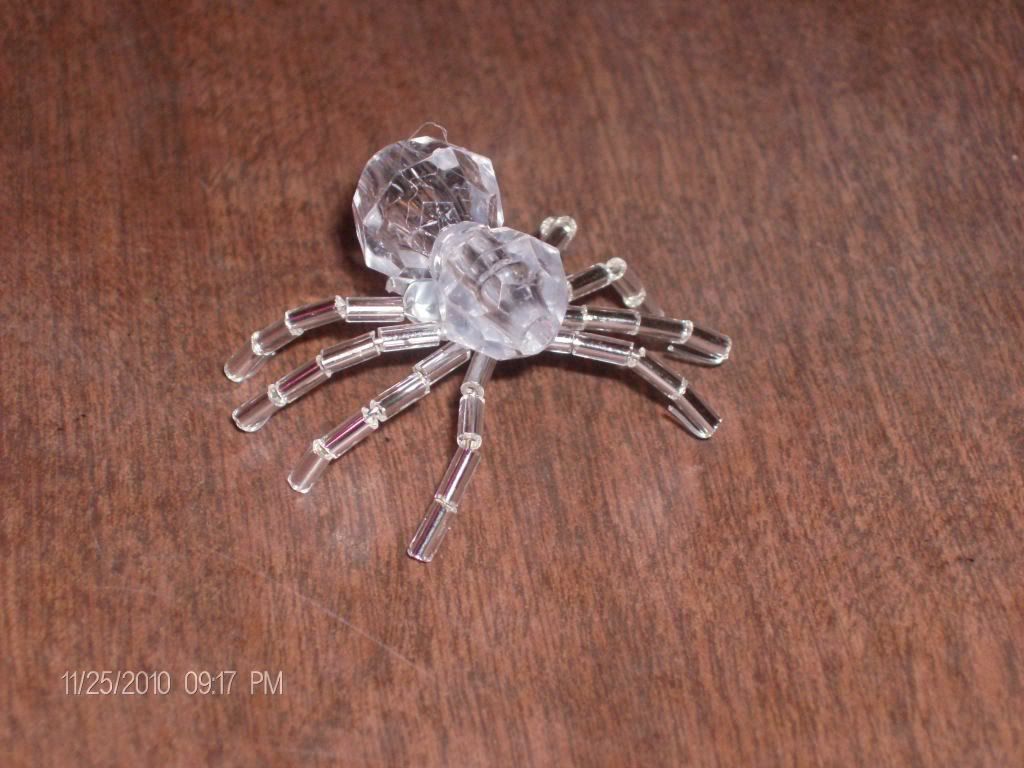 Our Christmas spiders... Ornaments with a meaning.
The fun part of working on these projects was sitting there and talking and kidding with the kids. Brianna is so bright and bubbly, she is almost addictive. Katelyn is sweet- though she tends to be very shy around me and not wanting to act up or be as crazy as Brianna is. Gracie- she sat in her excersauser and entertained us as she has since found her voice and loves to do that high pitched squeal and babbling. Steven watched his movies and played on the computer, actually turning in for bed early.
Another project we began was a "Christmas Paper Ornament". We saw these at the Tree Festival and I looked up how to make them online. They are still asking for paper to make more, they love them so much!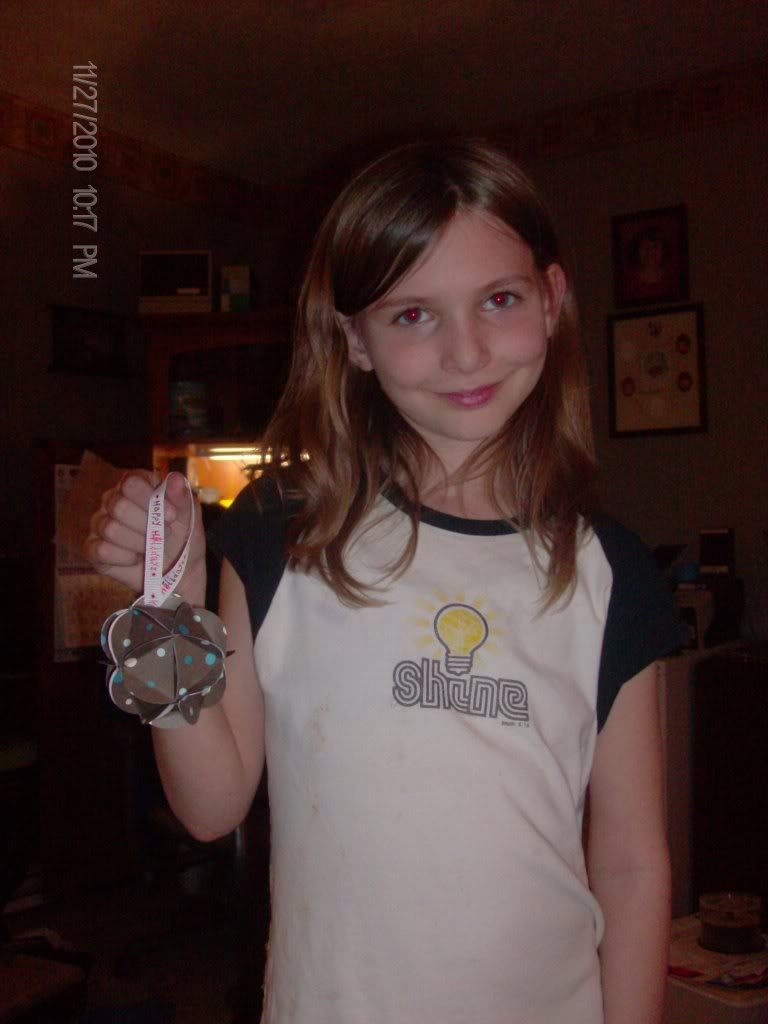 Brianna with one of her paper ornaments
I sat down Saturday and worked on a Swiffer dust mop that is actually pretty cool. I think I really need to figure out a new back that keeps it attached to the mop though because it ended up being pretty weird the way it ended up. I was rushed also, so that won't help.
We usually decorate the tree on Thanksgiving, but with all of the down-pouring rain we decided to wait instead of running all of the Christmas boxes from the barn into the house, so we ended up decorating the tree tonight. I actually got some neat ideas from the Tree Festival, so I made sure I got the items needed to re-create those for the tree... Some of the photos.....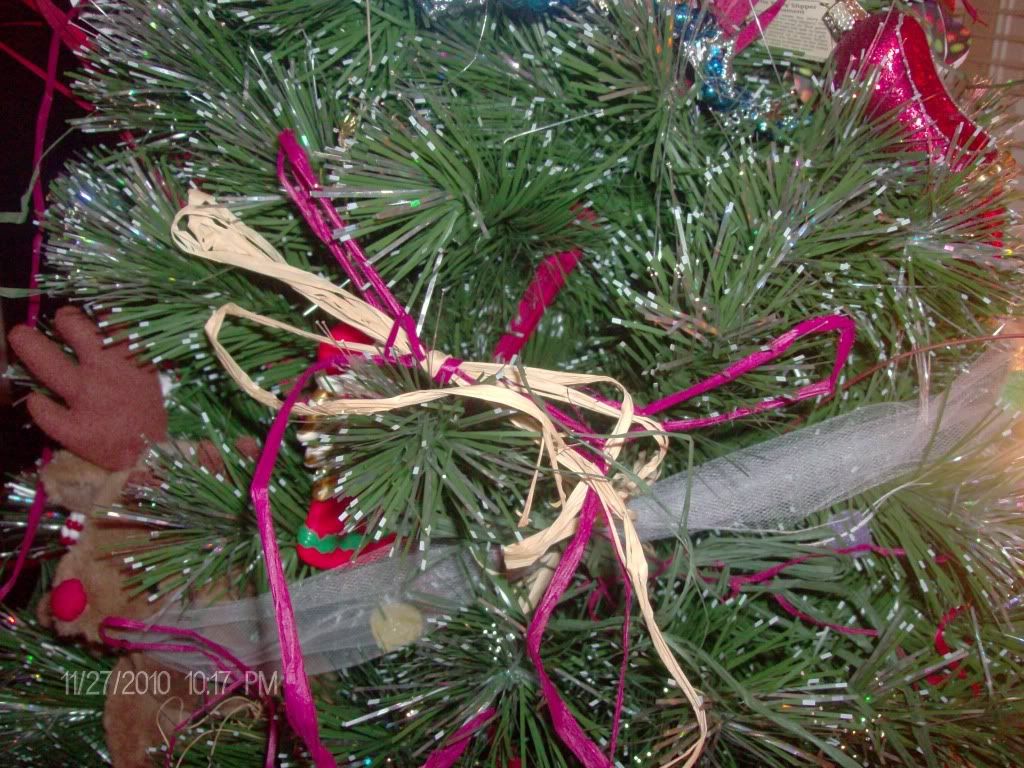 For some reason I just get a real "country" feel when I have raffia involved in a project!
New garland; blue beads and silver beads and snowflakes...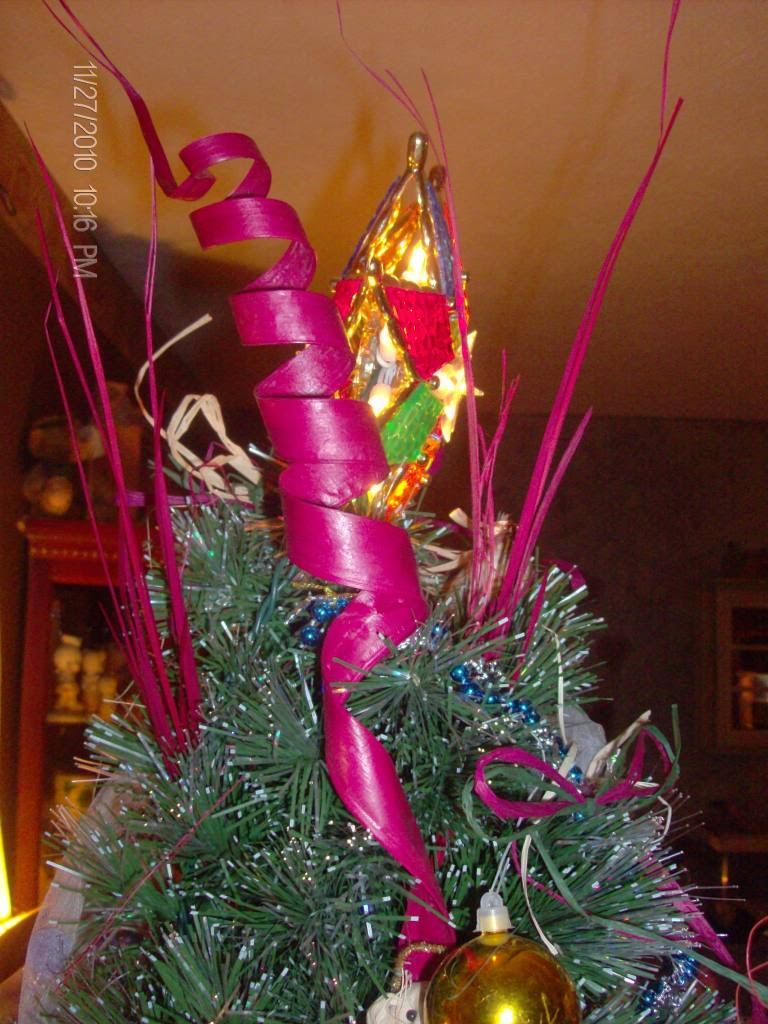 I found some neat floral arrangement materials- wish they had more than just "RED"


The front of the tree near the star. Notice we always have a bird on/in the tree. This year we are hoping for better luck, so the kids decided it needed to be in the front and near the star!

These are "icicles" that the kids made last year for Christmas. Brianna insists that they have to be "at the bottom of the tree- Where else would they form?"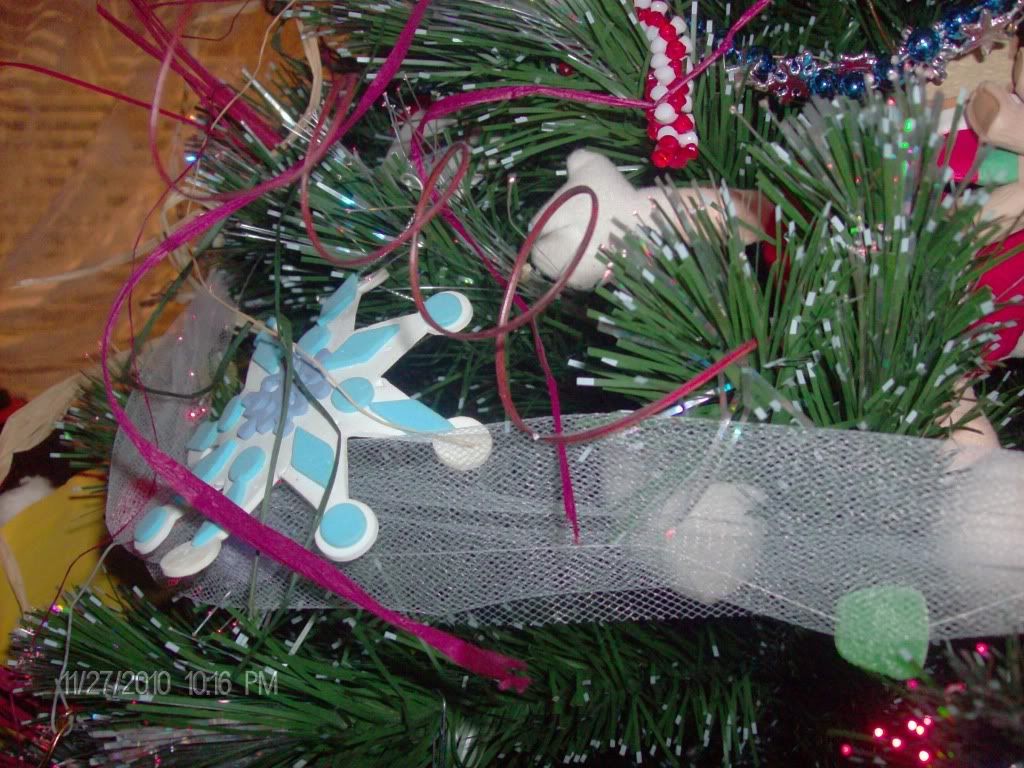 I found wild and whispy floral decorations that I love to add to the tree -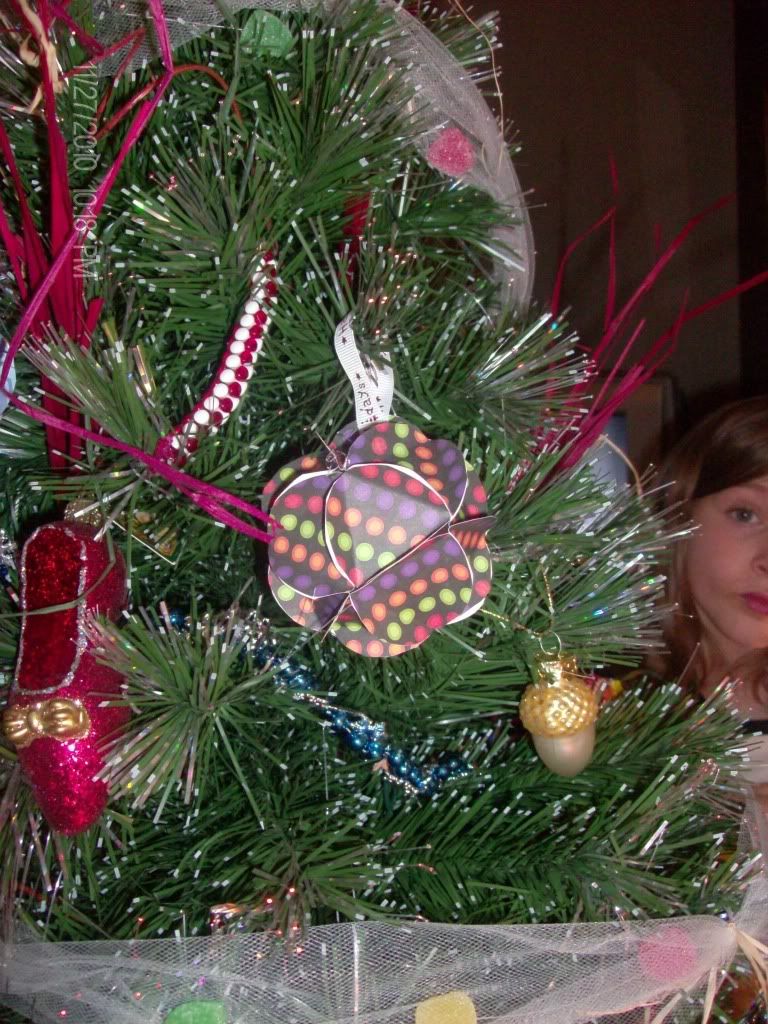 One of the paper ball ornaments Brianna made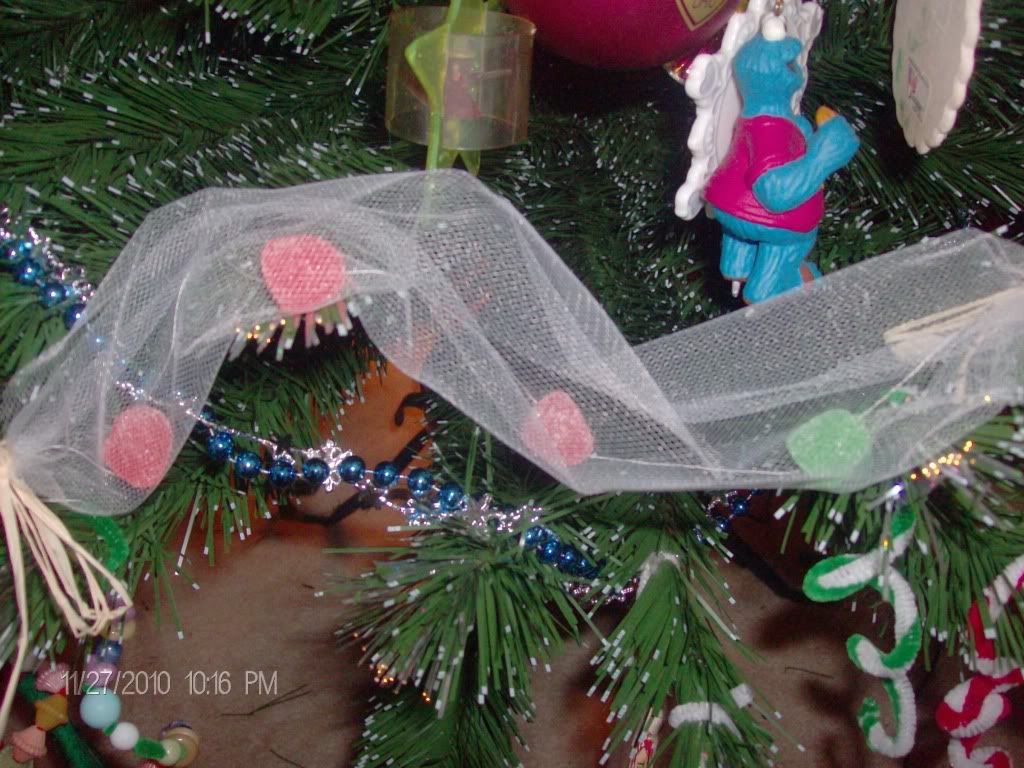 This was a joint effort... Garland that is made out of gum drops, strung onto thread and then we took Tulle and wrapped it around the drops along with tie-ing natural raffia every so often to keep it together better. Word of warning... when we attempted this I was not prepared for such sticky hands! The good thing is that the gel helps the gumdrop settle into place on the string to keep it from moving as much.
At least the tree is done. An accomplishment, considering I knew what I wanted but dreaded doing it. I absolutely despise pulling all of the limbs up and out to try to shape the tree. Note to self: teach the kids to do it!