We were given a bouncer seat that we have tried and tried to get Gracie to sit in, however she hated it and would fuss any time we put her in it. I ran across this bouncer, made in 2001 by Summer Infant, Incorporate Model Number #01210. After purchasing for $5.00 at a yard sale, I brought it home and even though it looked clean I wrote down the number off the back, took all of the cloth washable parts off, washed and dried them (yes it was very easy to take apart and put back together!), researched the item online, and found 4 c size and 3 AA size batteries for the actual bounce and the REMOTE that came with it. The functions on the mechanical part of this product - it actually BOUNCES and VIBRATES!! It also comes with a control built in to enhance the amount it bounces or vibrates and sounds of music, heart beat and also birds/outside. You can control what sounds you would like to hear, if you want to hear them at all. It also has a switch to use with the remote.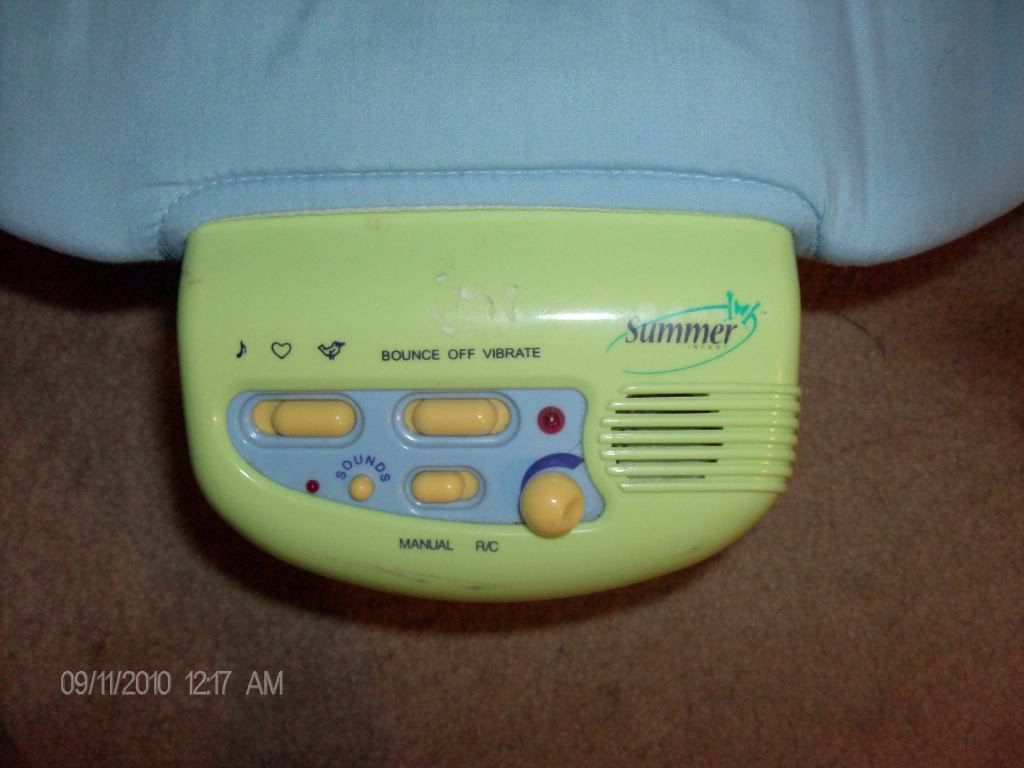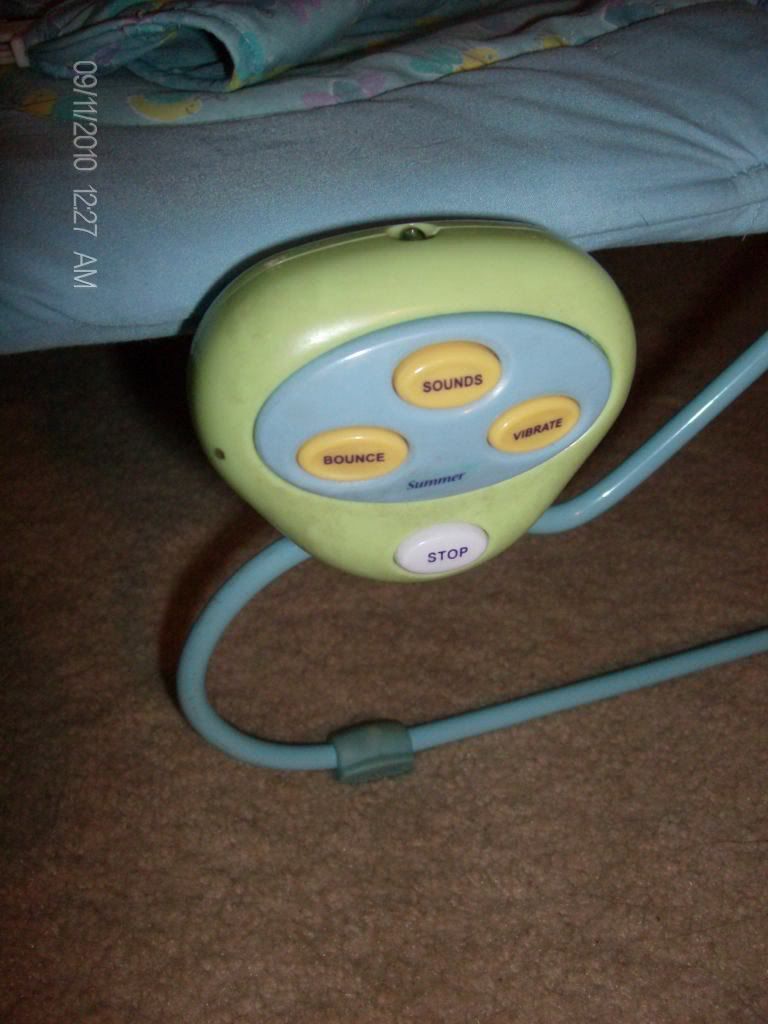 The remote is a triangle with a button for sounds, bounce, vibrate and stop. In the photo below after I took the picture I noticed how dirty it was and it washed off very easily. It has a little "eye" at the top that you need to aim at the base (shown above) to change modes. I have actually used this to change modes when Gracie starts fussing, just to get her attention. I have also used the sounds button. The stop button was nice when I noticed that Gracie was leaning a little towards one of the sides so I could re-adjust her in the seat. There is also a small piece of fabric on the side to store the remote.
The actual back to the seat adjusts to lay pretty close to all the way down, slightly elevated, and elevated. It also has a half circle with a butterfly teether, a bumble bee that when you pull the cord it vibrates back up, and also a snail with baby safe mirrors on each side so that the baby can see themselves. There is also a pillow that has velcro on the hanger portion of the fabric so that you can adjust where the pillow sets so it is nice for newborn and up. I love the sun bonnet on top because we get really direct sun into our living room windows in the afternoon and I can pull the bonnet down and keep the sun out of Gracie's eyes.
Some of the disadvantages I have found;
**It is difficult to store as it cannot be collapsed for storage
**The sun bonnet is attached to the seat fabric and makes laundering a bit difficult
**You have to make sure it is turned off when you want it off because the buttons are hard to tell if you have it actually turned off.
Even though this bouncer is 9 years old, it is still going strong. While researching I have noticed that they have still kept selling bouncers really close to this and they now call it Mother's Touch II Remote Control Bouncer.
For more information on all of the many products that they carry, please visit their website at
http://www.summerinfant.com/index.htm
.
All in all I am very happy I found this product. It has helped me get things done around the house instead of trying to balance holding a new baby and trying to attempt dinner, dishes, etc.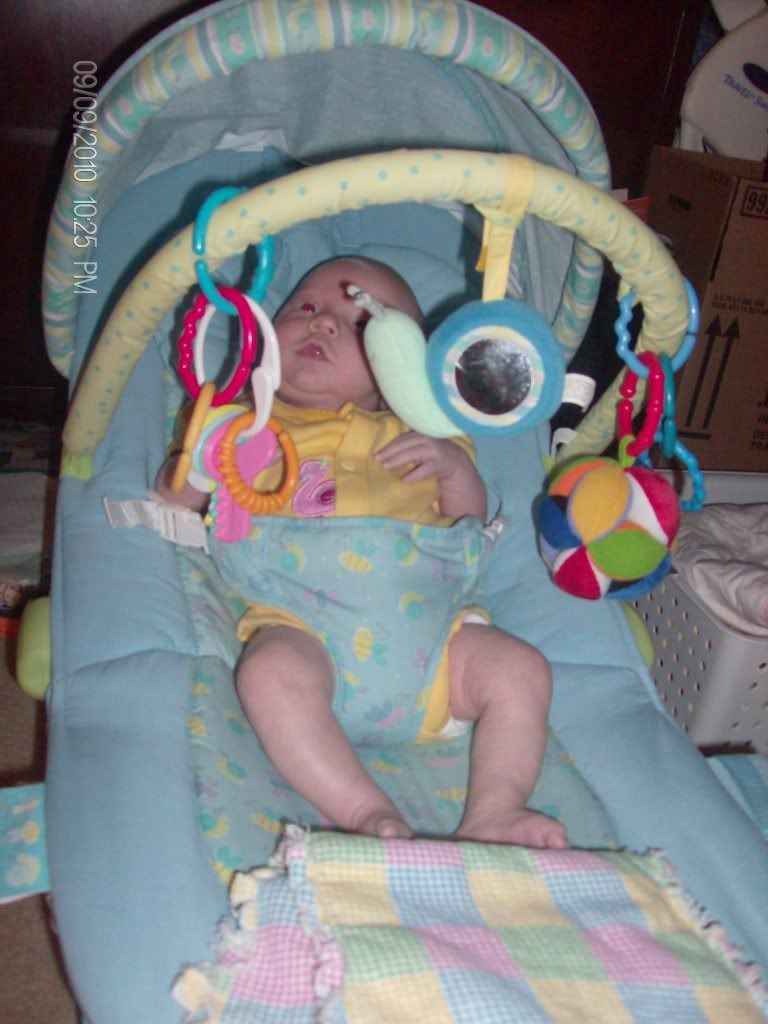 I added some of Gracie's toys to the mix on the bar. She was intrigued!